2000 gallon TANK, SINGLE WALL, VERTICAL, FOOD GRADE STAINLESS STEEL...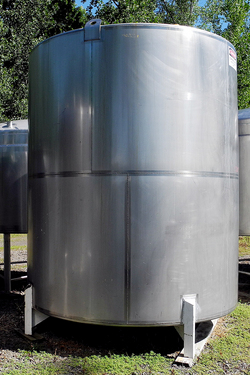 84 inch diameter by 96 inch high single shell stainless steel vessel.


Shallow conical / cone bottom with 4 inch diameter outlet with Tri-clamp connection.


Closed dome top with 24 inch diameter manway with hinged cover.


Center mounted spray ball, mulitple top inlets.



Food grade sanitary stainless steel tank, currently with painted steel legs.
As of this writing this tank is in stock at Alard, with (4) painted steel legs only long enough to provide a 1 inch discharge height (was last used mounted in a mezzannine), and available for immediate shipment as-is, or our shop can add legs to buyer specification prior to a timely shipment.
NOTE: To see better pictures, see identical tank Y2868 below...

Alard item reference #:Y2869