RIETZ-BEPEX ANGLE DISINTEGRATOR MODEL RP-12-K122, 30HP food grade stainless steel hammermill, grinder...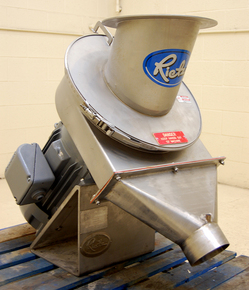 Manufacturer recommended for grinding, shredding, delupmping, homogenizing, fine dispersing, or fine pulping of wet and dry food products. For food grade high-production grinding pureeing, granulating, and pulverizeing in fruit and vegetable production applications.


12 inch rotor diameter.


11 inch diameter open throat infeed chute at a 38 inch infeed height.


12 inch diameter screened milling cage with 5 sets of blunt/sharp hammers.


Screen cage has an interchangable inner screen with approximately 1/8 inch openings, backed by a reinforcing outer screen 1 inch square openings.


4 inch x 20 inch rectangular flanged front bottom discharge at a 14 inch discharge height.



Comes with bolted-on / removable collection funnel which tapers to a 5.5 inch diameter outlet at a 6 inch discharge height.




All food grade stainless steel construction, including support base.


30 HP 230/460 volt 3550 RPM 3-phase direct drive motor.


As of this writing, this food grade stainless steel disintegrator mill is in stock at Alard in good operational condition, and available for timely shipment.

Alard item reference #:Y2937