80 GALLON SELF-CONTAINED STAINLESS STEEL KETTLE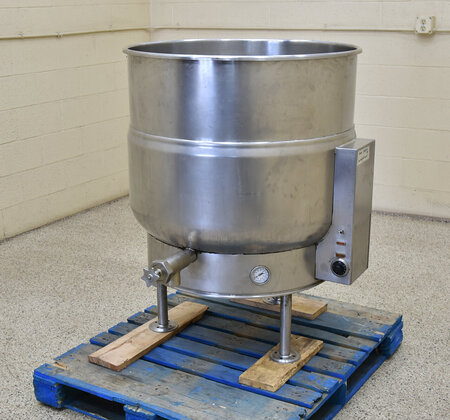 A Crown model EL-80, 80 gallon capacity ELECTRIC-fired cooking kettle with front bottom outlet valve.



FEATURING:

Front bottom outlet with manual valve.


Steam jacket manufacturer rated for 50 psi @ 298F, National Board Coded and ASME stamped.


44 inch high infeed, 14.5 inch discharge height.


All food grade sanitary stainless steel construction.



Self-contained / integral electric heater powered by 480 volt 3 phase electric input, complete with thermostatic control.

As of this writing, this electric kettle is in stock at ALARD, in VERY GOOD OPERATIONAL CONDITION, and available for immediate shipment.

CALL 315-589-4511 to confirm availability and discuss your food process cooking kettle needs.

ALARD item reference #: Y5272