FOOD TUMBLE MIXER,
14 cubic foot stainless steel drum type batch mixer,
tilt discharge.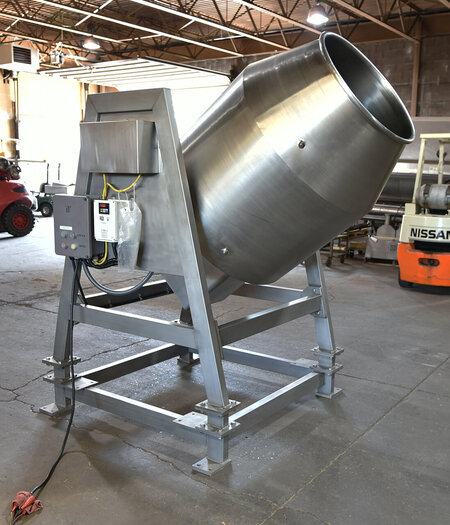 A food grade stainless steel tumble mixer, in a "cement mixer" configuration for batch mixing and blending applications, for gentle dividing, folding, and tumbling action, with inline infeed and discharge with power tilt to dump. Well suited for mixing and blending wet or dry particulate products, spices, cut fruit, diced vegetables, salsa, sauces, wet salads (fruit salad, macaroni salad, potato salad) and/or other ingredients and products for industrial food processing production.

FEATURES:

Food tumbler mixer barrel has a 26 inch diameter infeed / discharge opening.


40 inch diameter by 40 inch deep <>14 cubic foot batch mixer drum with (3) 35 inch long by 6 inch wide lifting paddles.


Inline straight-through product flow, feeds on one side, flips over approximately 180 degrees to discharge on the opposite side.


Power tilt discharge.


Tubular stainless steel tumbler support stand set for a 67 inch high infeed, 38 inch discharge height.


Operator control panel.


1HP drum drive, 1.5HP tilt drive.


All food grade stainless steel construction.



208/230 volt 3 phase electrical input.

As of this writing, this batch tumble mixer is in stock at ALARD, in EXCELLENT operational, mechanical, electrical & cosmetic condition, and available for immediate shipment.

CALL 315-589-4511 to confirm availability and discuss your food processing needs.

ALARD item reference #: Y5618