Quadro Ytron LD-1 INLINE POWDER DISPERSER,
POWDER-LIQUID HIGH SHEAR MIXER.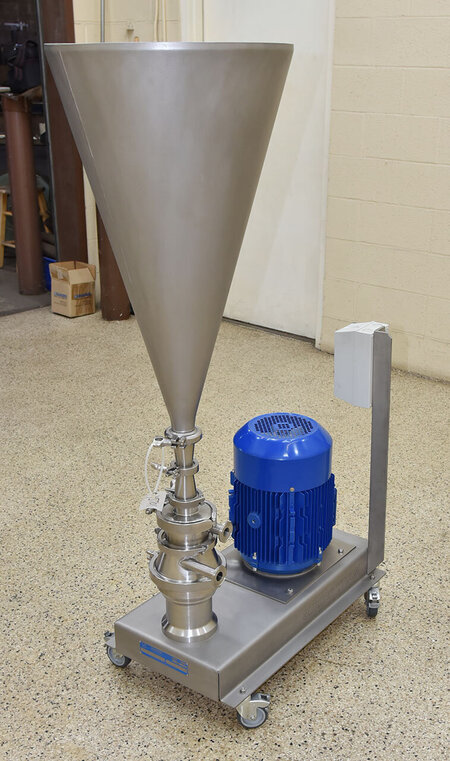 A Quadro YTRON model LD-1 high-speed powder disperser is a high-shear liquid-powder mixer for continuous inline dispersion of powders into a liquid stream. Similar to a Tri-Clover Tri-Blender hybrid powder mixer. Specifically designed to mix & disperse difficult to wet powders, up to 25% concentration, in a single pass. Powders are drawn by a Venturi vacuum effect into the mixing chamber where they are sheared, without over-processing, into the liquid phase before hydration takes place. Molecular structure remains undamaged so the result is a smooth, consistent, lump-free slurry. Manufacturer recommended for jam, egg substitute, salad dressing, syrup, condiments, gums & stabilizers plus pet food, pharmaceutical, cosmetic and chemical applications.

FEATURES:

Manufacturer rated for 10 to 20 gallons per minute liquid capacity.


17 inch diameter by 32 inch deep steep-walled conical dry product infeed hopper.


Full port ball valve option for improved powder flow.


7/8 inch diameter liquid infeed, 7/8 inch diameter blended product discharge -ball Triclamp connections.


59 inch infeed height, 15 inch high discharge.


Food grade sanitary stainless steel, manufacturer rated for USDA and 3A dairy sanitary standards.


7.5HP drive motor.



460 volt 3 phase electrical input.

As of this writing this Quadro Ytron Powder Disperser / inline liquefier is in stock at ALARD, in LIKE NEW operational, mechanical, electric & cosmetic condition, available for immediate shipment.

CALL 315-589-4511 to confirm availability, and to discuss your particular food equipment needs.

ALARD item reference #: Y5701