1580 GALLON VERTICAL MIXING TANK
with SWEEP AGITATION, all stainless steel.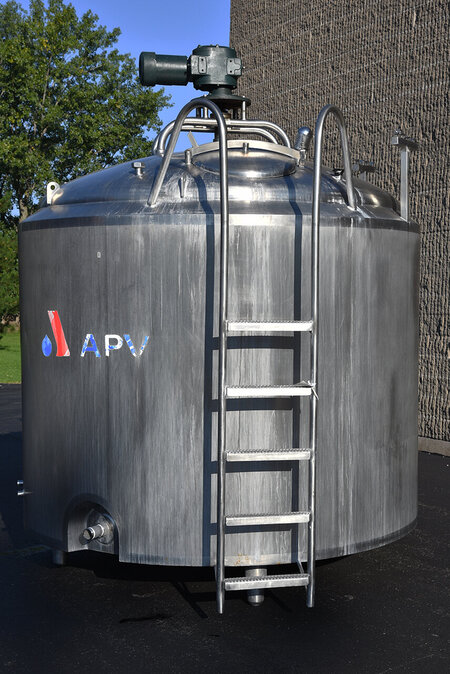 An APV / CREPACO 1580 gallon, round, vertical, single wall mixing tank with dome top, shallow cone bottom, and sweep agitation, food grade, stainless steel.

FEATURES:

Vessel measures 84 inch diameter by 70 inches deep.


Several top inlet ports.



Four (4) 1.5 inch diameter with sanitary threads.


One (1) 2 inch diameter with Tri-Clamp connection.


One (1) vent port.



Full bottom sweep agitator blade:



Top, center mounted 1 HP motor drive.


Set for 17 RPM agitator blade speed.


Drive/gearbox has new bearings and seals.



Sloped bottom with 2 inch diameter threaded bottom side discharge.


All food grade sanitary stainless steel construction.



208 / 230 volt 3 phase electrical input.

As of this writing, this mix tank is in stock at ALARD, in GOOD condition and available for timely shipment.

CALL 315-589-4511 to confirm availability and discuss your particular liquid process tank, storage tank, hold tank and/or mix tank requirements.

ALARD item reference #: Y3956