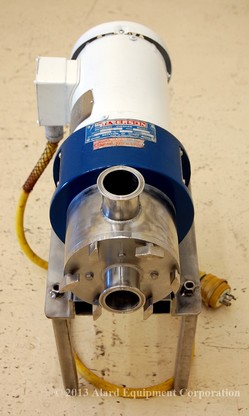 SILVERSON model 275LS HIGH SHEAR IN-LINE MIXER / SHEAR PUMP, T316 stainless steel with 2 inch Triclamp inlet and outlet on a stainless steel frame with a 2HP 3450 RPM 208/230/460 volt 3 phase motor.
Manufacturer rated for 5 to 50,000 gallons per hour capacity and 100psi maximum working pressure in emulsifier, homogenizer, disintegrator, colloid mill applications.
This pump is fitted with a head with 3/8 inch diameter perforations surrounding the high-shear impeller. A range of different heads is available from the manufacturer for different application needs.

As of this writing, this shear pump emulsifier is in stock at Alard, in
EXCELLENT operational, mechanical, electrical and cosmetic condition, available for immediate shipment.
Alard item reference #:Y1850