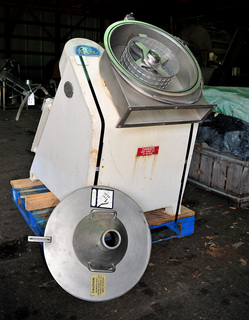 STAINLESS STEEL ANGLE DISINTEGRATOR, Rietz Model RA3-12-K122, 25HP.
Currently configured for pipe infeed, with a 3 inch Triclamp connector leading to a 12 inch rotor fitted with (3) blunt hammers and one sharp hammer. The blades are surrounded by a fine mesh .023" perforated screen. The discharge is a 4 inch high by 20 inch wide opening discharge with a flange edge, at a 27 inch discharge height. Food grade all stainless steel product contact grinder, on a painted steel base.
Complete with a 25 HP 208/230/460 volt 3 phase motor drive.
As of this writing, this Rietz Disintegrator / hammermill / grinder / comminutor machine is in stock in VERY GOOD condition, available for timely shipment.
Alard item reference# Y1880