STEAM BOILER, 80 HP, 150 psi, GAS-FIRED...
Lattner Model 80 DBS 3 pass dry-back Scotch Marine Boiler with Webster Cyclone forced draft natural gas burner with 2HP 460 volt 3 phase blower motor. Complete with Lattern Model LV75D 80 gallon vertical condensate tank with (2) 3 phase pumps, 2 water softener tanks, and a blow-down / separator tank.
Manufacturer rated for 2760 lbs per hour steam output, 400 square foot heating surface, 1037 gallons water content, 3360 mBTU maximum input, 1344 mBTU minimum input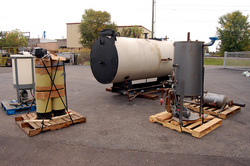 Late model (2008), just removed in very good operational condition from a newly-closed industrial food processing plant facility.
As of this writing, this high-pressure industrial boiler is IN stock in very good condition, avaiilable for immediate shipment.
Alard item refrence #: Y2009