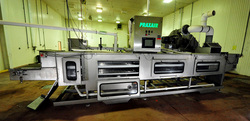 STAINLESS STEEL SPRAY COOLER / PRAXAIR NATUREWASH OZONE DISINFECTANT WASHER
, with 24 inch wide by 22' long SS rod-wire belt with 1/8" by .75" belt openings. 3.75" clearance above belt for product travel.
Gentle sprays, suitable for delicate products above and below the belt. Full water catch / drain pan underneath. On a common SS frame with a big air-blast / air-knife dewatering blower at the discharge, and a stainless steel recirculation pump with filter. Comes with an ozone generator with injection blower, A-B touch screen control panel with stainless steel electrical box with VFD speed controllers.
Can be used as a spray chiller (just pump in cold water), or as a combination cooler / disinfectant washer. The Ozone disinfectant process does not degrade delicate flavors like chorine does.
This hydrocooler / spray wash tunnel / sterilizer-washer is expected to arrive
into inventory in early December 2013, in very good condition.

Alard item reference #: Y2104