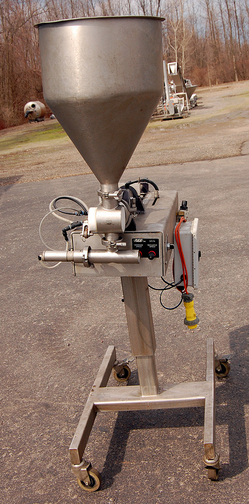 SINGLE PISTON FILLER - DEPOSITOR, REB Model SVS, all stainless steel, with cut-off valve, adjustable for up to a 16 ounce fill per stroke.

Manufacturer rated for accurate filling and depositing of products such as pastes, frostings, gels, sauces, batters, oils, with capabilities extending to thick liquids such as solvents, and chunky products such as salad dressings, baked beans in sauce, potato salad and pie fillings & etc.
A volumetric positive displacement single piston filling machine with a 15 inch diameter by 20 inch deep cone hopper feeding an approximately 2 inch diameter by 10 inch long product cylinder sized for a nominal 16 ounce fill per stroke, via a UHMW (plastic) valve plug, and drip-free pneumatic cutoff valve with a 1.5 inch diameter discharge port / nozzle. Other dispensing and depositing
nozzles are available from the manufacturer for a range of applications. The pneumatically powered piston is crank adjustable to set per-stroke fill volume.
On a REB-factory-option adjustable stainless steel pedestal stand, crank-adjustable for height, on casters, currently configured for a minimum discharge height of 30.5 inches.
Includes operator controls for dispense speed, recharge speed, manual and automatic operation. Can be actuated by relay or photo-eye for automatic operation, or set for push-button or footpedal activation for semi-automatic use.
All food grade stainless steel product contacts and construction. Requires compressed air for pneumatic operation, and 110 volt single phase (standard household current) electrical control circuit input.
As of this writing, this single piston depositor is in stock at Alard, in good shape, available for timely shipment.Alard item reference #:Y2096